Record Storage Rack from
The Surplus Warehouse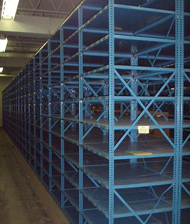 Need to store vital records in a secure, safe place? Want to access records quickly and easily? Record storage rack used as archival shelving may just be the high quality, cost effective solution you are looking for. Used and new record storage rack systems from The Surplus Warehouse, Philadelphia's largest material handling dealer, are a great way to organize and manage physical records such as letters, legal documents, business transactions, etc. We have record storage racks that feature no sway braces for unobstructed access from all four sides as well as racks that have single or double depth to maximize space. Contact us at sales@surplusrack.com or (215) 755-7000 to find a record storage rack that meets your requirements.
Importance of Proper Record Storage
For many companies, records must be stored in such a way that they are both sufficiently accessible and are safeguarded against environmental damage and theft. Some require that records be stored in disaster-resistant safes or vaults, while others require they be stored in rooms that employ specialized environmental controls that regulate temperature and humidity. Regardless of where you choose to store your documents, record storage racks are the ideal storage method to keep materials safe, damage-free, and easily accessible.
Different businesses and applications have different record storage requirements. Some companies want to store as many records as possible in an area and rarely need access to the items. Other firms require a record storage system that allows for easy access and retrieval of documents, files, or boxes. A sales professional at The Surplus Warehouse can help find the best combination of storage density and accessibility to suit an individual customer's needs. The key to making sure you have what you need to stay in business is investing in record storage racking systems from The Surplus Warehouse and letting us help you plan a storage system that works. Call now.

Record Storage Rack Applications
---