Flow Storage Rack from
The Surplus Warehouse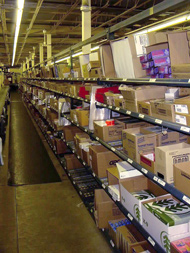 Need first-in, first-out access to perishable or time-sensitive products? Want a rack system to achieve a high level of storage density? Then industrial flow storage rack from Philadelphia's leading material handling dealer, The Surplus Warehouse, may be the solution. Limited only by the size of your facility, flow rack storage systems offer automatic first-in, first-out product rotation and unsurpassed storage density. For more information on available options, contact The Surplus Warehouse at (215) 755-7000 or sales@surplusrack.com or simply read on.
Gravity Flow Rack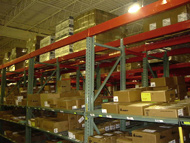 Gravity flow rack uses inclined shelves equipped with roller tracks to move product by gravity from the restocking to the picking side of the system. One carton or pallet of each line item is located on the pick face, which means that a large number of SKU's are presented to the picker in a relatively small space. Picking time can be drastically reduced, which increases efficiency in the operation and offers significant labor savings. Accommodating the slowest and fastest movers of pallets, or odd-shaped cartons, bins, or merchandise, gravity flow rack systems are ideal for supplying product to order picking, sorting, or distribution operations.
With industrial flow rack storage systems, less time is spent walking and searching for product, which means less labor and fewer aisles are needed to reach the same amount of product, which means less floor space is required. Save time, labor, and space with used or new flow storage rack systems from The Surplus Warehouse. Call or email now.