Cantilever Storage Rack from
The Surplus Warehouse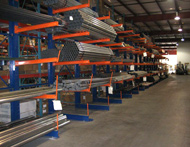 Need a rack for storing long, bulky, or oddly-shaped materials? Cantilever racks can store nearly any type of load into an orderly system where materials are more accessible and easier to track. With a clear frontal access to the storage levels, cantilever racks expedite inventory control as well as forklift loading and retrieval. The Surplus Warehouse, Philadelphia, Pennsylvania's largest used and new material handling dealer, offers different brands of cantilever storage racks that feature add-on accessories. Depending on your application, cantilever industrial storage racking systems may be the solution you are looking for.
Make full use of your space and store items of varying lengths without modification to the rack by contacting The Surplus Warehouse at (215) 755-7000 or sales@surplusrack.com.
Cantilever Storage Racks are
Versatile & Flexible
As one of the most versatile storage systems on the market, cantilever racks provide a variety of shelving flexibility and add-on capability. Available features include single- or double-sided arm configurations as well as variable or interchangeable arm lengths. The heavy-duty steel construction and open access offered by cantilever systems make them ideal for storage of long, heavy, or unwieldy items.
Cantilever Storage Racks are
Accessible & Economical
Cantilever storage racks offer accessibility to one piece or a full load of material. The lack of a front column saves horizontal space, which is normally lost with a typical pallet rack structure. Both reduced handling times and increased space utilization makes cantilever racks the cost-efficient choice over pallet racks for many industrial warehouse operations.