Keystone Style Pallet Rack from
The Surplus Warehouse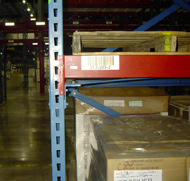 As the design and implementation of pallet rack systems become increasingly complex due to sophisticated material handling equipment, it is harder to find the one that matches your unique specifications. The Surplus Warehouse, Philadelphia's leading pallet racking supplier and material handling dealer, offers a variety of used and new pallet rack styles to choose from including keystone style racking systems. Republic brand pallet racks are often referred to as keystone style and are ideal for applications where the existing rack is of the same style.
Want to identify the pallet rack you already have to determine if the Keystone style pallet rack is compatible? Then visit our Pallet Rack Identifier where you will be able to view all available styles. Or contact us directly at sales@surplusrack.com or (215) 755-7000 for more information.
Features of Keystone Style Pallet Rack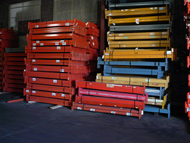 Our keystone style pallet racks feature upright frames engineered to promote the structural integrity of the racking system, columns with solid corners, and keystone slots punched in the area of least stress for maximum load capacity. Holes are punched on both sides and offset from the keystone connectors on the beams to prevent accidental dislodgement. Keystone slots and holes are punched in a single row on 3" centers, allowing the beams to adjust in 3" increments.
Why Choose The Surplus Warehouse?
To make better use of space, enhance product flow, and comply with customer's quality demands, today's pallet rack manufacturers are producing a wide range of pallet rack styles. With so many styles to choose from, it can be challenging to make the right decision. The wrong pallet racking system can ruin a warehouse operation. At The Surplus Warehouse, we not only offer an assortment of pallet rack styles and types of storage racks, we lend our extensive experience in the material handling industry to understand your needs, determine which style will comply with your application requirements, and assist in the layout of the pallet racking system.